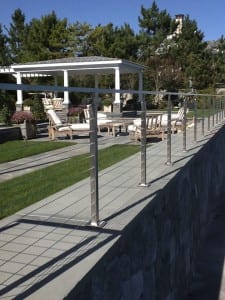 Cable rails are usually regarded as an ornamental or decorative addition to the property, but they also serve practical purposes. They create an invisible boundary, and are great for sidewalks and walkways around the property to help monitor and keep kids safe or provide assistance to elderly family members. They are also great for barristers, patio fencing, and they provide some security on high-rise decks. Cable rails are the perfect railing infill option to use to enhance settings with a view.
This steel cable system is suitable for perimeter fencing, railings or trellising as it is open and does not obstruct a view. The line and terminal post can be wood or steel and the entire installation can be a combination of wood and steel. The options to choose from are standard or custom. The material used to make these assemblies is weather-tough type 316 stainless steel. There is also an assortment of hardware attachments for completing the job.
The cable is made from stainless or galvanized cable and varies in thickness. Cable rails are not only very attractive but also durable, affordable, easy to install and basically maintenance free after installation. They make a great complement railing designs whether it's for inside or outside fencing.
Cable rail fencing allows you to get creative with your back yard fencing. You can add a touch of nature to your fencing by intertwining plants such as ivy or vines through the rungs.
Cautionary Measures
Cable rails should be installed by professionals and should pass the building codes.
They may be strong and inflexible, but the banisters are still opened and exposed. Pay attention to pets and kids. The metal wires are thin and hard to manipulate, but kids may be tempted to use the steel ropes as ladders.
Ensure the spacing intervals are closely knit and avoid keeping furniture close to the fencing. Kids could be tempted to use the furniture for climbing and pets can slip under the bottom rung it is not done properly.
Plexi-panels or X-shaped figures can be used to reinforce the spacing at the bottom.
Without these measures in place, rail fencing will not meet the standard of a good security or perimeter type fence, as people or animals can easily slip through the openings.
Need Help?
If you have any questions on cable rail fences, contact us today!