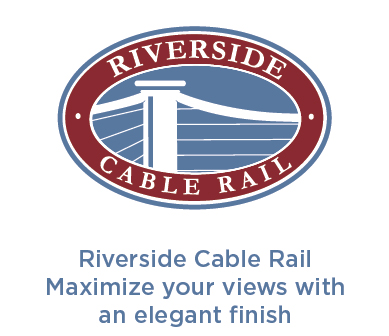 Riverside Cable Rail (A division of Riverside Fence) and Ultra-Tec® combine installation expertise with specially designed tensioning and mounting hardware to create cable wire and fittings that are attractive, durable, and affordable. Many other products have sharp edges, uneven hand-crimped shanks, exposed nuts and other unattractive features.
Ultra-Tec® tensioners and mounting hardware is attractive stainless steel, precision-machined fittings. Suitable for metal framed railings and wood, some can even be concealed inside the end-posts, so there is nothing to interrupt the view through the railing.
Riverside Cable Rail will work with you to find the rail system that best matches your aesthetics and needs. Whether you like the warmth of wood railings, the durability of aluminum or the sleek look of stainless steel, we guarantee we have a solution for you.
We work directly with contractors, architects, homeowners, fabricators, and marinas on all types of projects ranging from decks, walkways and stairways to balconies, parking structures and trellises.
Please feel free to browse a sampling of our cable rail styles or our portfolio of installations. We look forward to answering all of your questions and working with you on your project.