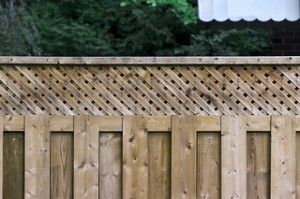 The options available to home owners regarding fencing for their property are almost limitless.
There are a vast array of styles and materials to choose from. It has never been easier to find a fence that addresses your practical considerations while adding architectural interest to your landscape.
No matter your taste, needs, or budget, there's a fencing solution for virtually any situation.
Where Do I Start?
The first thing to consider is what function the fence or enclosure is to serve. Is your purpose to keep things in, or keep things out? Is privacy a concern? Are you delineating your property boundaries? Have you considered adding a walkway gate for its practical purposes and aesthetic value?
Once you have determined the fence's purpose you can begin to look at the different design options available. Some choices to consider include solid wood fencing, such as cedar or redwood.
Wood fences are a superb choice if you desire privacy. A wood picket fence is timeless and classic, lending tradition and beauty to any home. If you would prefer a lower maintenance option consider vinyl, aluminum, or composite fencing. These choices offer beauty and performance year after year, and never require staining, sealing, or painting.
Many retailers offer pre-built fence sections, making it possible for the do-it-yourself to install their own fencing. This enables the consumer to complete the fencing project at a fraction of the cost of hiring a contractor.
Know the Code
Preceding actual construction, familiarize yourself with your city or town's building code regulations. Most home owners place fencing around the perimeter of their yard. If possible, locate your property's boundary markers. If none exist, call a surveyor to avoid any problems down the road.
Keep in mind some home owners associations have stringent requirements as to the color and height of fencing. Always know what perimeters you are working with before investing time and money.
Some points to remember while planning a fencing project:
Determine the function of the fence.
Consider fence placement.
Decide which fencing material best suits your taste.
Investigate any pertinent building codes.
Hire a surveyor if needed.
Budget conscious consumers can consider self installation.
Arm yourself with information, implement a plan, and enjoy your new fence.
Need Help?
If installing a walkway gate is something you are interested in, contact us today!