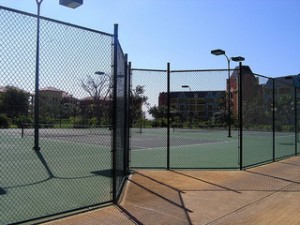 Tennis court enclosures guard your court from unwanted visitors and prevent missed balls from leaving the court area. A well-constructed fence not only protects your home, car and landscape from damages caused by an errant ball, but also saves time lost by players leaving the game to look for balls knocked out of the court. Even though chain link has long been considered the standard for tennis court fencing, there is no reason not to create a fence that meets your unique taste and needs.
What are the Options?
The most common tennis court enclosure is chain link. Installing chain link is an inexpensive and easy to maintain option. Chain link with 1-3/4 inch mesh is preferred for tennis enclosures, because the holes in the mesh are too small for a tennis ball to pass through.
Athletic chain link is typically coated in either black or green plastic to protect the metal interior from deterioration and exposure to the elements. Tennis court enclosures typically have a swinging, walk-through gate at each end of the court and may have hooks along the top of the frame for hanging vinyl sun shades.
Keep it Personal
For those who want a a more personalized enclosure, chain link can be stretched on a wooden frame, built to the owner's specification. This is commonly used on courts where a seating area is being built on one or both sides for viewing or where an irregular shape is desired for the enclosure.
Some homeowners may want to combine the visual appeal of a lattice or vinyl post fence with the functionality of the chain link mesh. For these homeowners, vinyl mesh is available with small square holes that block the tennis balls' travel, but have a more distinct and decorative appearance. Matching vinyl posts and decorative caps are also available to complete the look.
Further Considerations
Finally, for those who desire a greater level of privacy on and around their tennis court, a wooden privacy fence is recommended. Wooden privacy fences are typically six to eight feet tall, but when used as a tennis court enclosure are built to a standard tennis height of 10 feet to 12 feet. Privacy fence can be built from the wood or finished with the stain selected by the owner to compliment other wooden elements in the court area, including the furniture in seating areas.
Need Help?
If recreational enclosures are something you are interested in, contact us today!