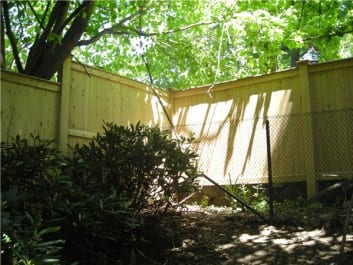 A fence is a great way to give your home privacy and character.
However, if you share all or part of your property line, it is wise to consult with your neighbors in order to stay away from potential issues with your installation.
This process is referred to as "fence etiquette".
How to Avoid Conflicts with Neighbors with Proper fence Etiquette
In order to avoid disputes with your neighbors and follow proper fence etiquette, there are a few important aspects to look into before starting the project. These aspects include:
Boundaries – It is crucial to know where your property line is. You can either look at you house line drawing or plat, or order a new survey from a surveyor which can cost between $500-$1000. Installing your fence one foot away from the line can prevent possible mistakes and arguments.
Limits – Like a professional fence company would do, you should get all the correct permits prior to installation. Finding out your local zoning regulations for the height, setbacks, and other restrictions is crucial to avoid problems. Make sure you take a look at those restrictions with the fence company before selecting a fence.
HOA Rules – Since every Homeowners Association is different, it is up to you to find out and communicate with the fence company about your HOA's regulations. The association has the ability to control style, height, and maintenance of the fence. They may even want your fence to match existing fences.
Neighbors – You should discuss your plans with every neighbor you share a property line with. This way if any issues arise with the placement of the fence, the plan can be altered prior to the installation. They don't, however, have a say in the style of fence you choose.
Other Facts – Keep your fence clean on both sides. If it begins to lean, fix it as soon as possible to avoid spending a lot of money on repairs. The best side should be facing the street and neighbors for curb appeal. Trees, hedges, and other types of barriers are considered types of fences and should be maintained as well.
If you have any questions about installing or maintaining your fence, or would like to meet with one of our fence professionals, feel free to give us a call at Riverside Fence. We will gladly answer any questions you might have!