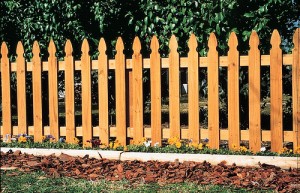 In order to keep your wood fence looking new and in its best condition, it is important to take the proper care throughout the years. Knowing the correct procedures and frequency of the cleaning process is essential for having ideal results.
Important Materials
For the best outcome in your cleaning and staining process, you should have the proper materials. The basic materials include:
Power Washer or Water Hose
Stain for the Wood
Wood cleaning product of Bleach
While you might be tempted to use paint on the wood, a wood stain will provide the best outcome for a longer lasting job and protection of your fence. In addition, you might want to use plastic sheets under the fence to protect the grass if desired.
Cleaning Process
Create a solution using one part bleach and two parts water. You can purchase a wood cleaning product from your local store which will work just as well. Once you have the solution, you will want to apply it to all areas of the fence. Before doing this, place the plastic sheet(s) under the fence to protect the grass underneath if desired. After applying the mixture, the fence will gradually become lighter as it sinks into the wood.
Using a power washer or hose, spray the fence from about a foot away to wash out the product and remove old stains and marks. Allow the fence to air dry, repeating the cleaning process if additional stains and marks remain.
Once you have reached the desired level of clean, you can move onto the staining process. Be sure the wood is completely dry before starting this step. Cover the entire fence with your desired stain, making sure to reach all areas. Afterwards, allow the fence to dry completely. A wood sealant can also be used to protect the wood if you do not wish to use a specific color stain.
Looking into the Future
For optimal results, you will want to follow this cleaning and staining process every 3-5 years. Although the process may seem slightly involved, it will be worth the effort if you plan on keeping your fence for an extended amount of time. Not only will a properly maintained fence make for an attractive yard, but it will save money that would be involved with replacing or repairing a neglected fence.
If you have any questions about the upkeep of your wood fence or would like to look into having a wood fence installed, feel free to give us a call at Riverside Fence.