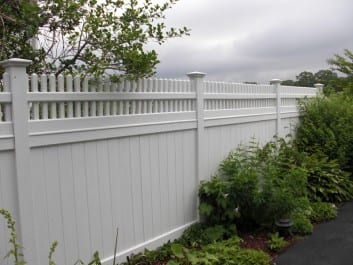 Whether your home is in the city or the countryside, a fence can be a great addition to your yard. Adding a fence is a great way for homeowners to create an extension of their home outdoors. When looking at the various benefits of adding a fence to your yard, you may find the perfect choice for your personal needs.
A fence can offer numerous functions whether it is a deer fence, privacy fence, picket fence or another type of fence. Many think that a fence only adds extra appeal to your home; however, there are other added benefits. Some of these benefits include:
Enhance curb appeal: The main purpose that many homeowners have a fence installed is due to enhancing their curb appeal. By adding a fence to your yard, it allows you the homeowner to create an extension of your home and landscape to add a picturesque feeling.
Create privacy and security: It is not uncommon to see homes that have tall fences around their yards to bring added privacy. In creating privacy, a fence can keep neighbors and strangers from looking and going onto your property. For homeowners that live in a busy area a fence can be cost effective and beneficial option to help reduce the noise created by traffic.
Keep pets in and unwanted animals out: A fence allows your pets to freely run and roam the yard without running into the road or getting loose. In addition to keeping pets in your yard, a fence can help keep unwanted animals out that can harm your yard and pets. From raccoons, deer, skunks and more, there are various animals that would be better kept off your property.
Properly enclose your pool: If you have a pool, a fence is not only required in most states, but it is a good idea to help prevent children and pets from going near or in a pool without a parent or guardian present. A fence will not only keep kids and pets safe, but it will also other animals and rodents from getting into the water.
Create a safe environment: Safety is one of the main reasons why homeowners have a fence installed around their yard. It is important that parents have a safe play area for children, away from strangers and cars driving by.
Keep the bugs away: Not many people see fence as a way to deter bugs, however, the proper material can be very effective at repelling insects. To repel bugs, your fence should be built from cedar. The scent from cedar acts as a natural insect repellant due to the oils present in the wood.
If you are thinking about having a fence installed and would like to learn more about what options are available, give Riverside Fence a call today. We will gladly answer any questions you might have and work with you to create the perfect fence that not only compliments your home and yard, but also creates your ideal outdoor space.