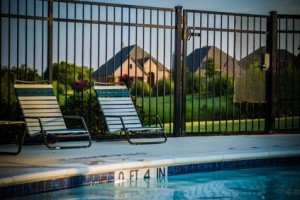 Summer is the favorite time of year for children, and it's clear why. There's no school, beautiful weather, and readily accessible ice cream everywhere they look. Not to mention the fact that they're in a pool every other day of the week. And with this frequent pool hopping, comes the matter of pool safety and pool regulations in Connecticut. Unfortunately, every year there are thousands of swimming pool drownings of young children, most of which are preventable. This is why Connecticut implements various codes and regulations regarding pool barriers and fencing.
Connecticut fencing codes follow what are called BOCA laws, and they are pretty much standard all across the country. The tragic drowning of a child is more than preventable, and the BOCA laws are for just that purpose; prevention. But fencing around your pool does more than just protect your from the tragedy and liability of a drowning, it also protects your pets and other wild animals from your pool or property.
BOCA Pool Fencing Laws & Regulations
So what actually are the BOCA laws and how do you know if your fence is legal? Well here is the breakdown of the regulations for pool fencing:
Fences must be at least 48" high. This, for obvious reasons, prevents children from climbing over the fence.
Fence pickets cannot allow a 4" sphere to pass between it. This represents a child's head and prevents them from passing between the fence. If it gets stuck, he/she can break his/her neck, suffocate, or even die.
Not too complicated right? Well then there is the railing and gate. The railings also need to fulfill the 48" requirement, and the bottom rail to the top rail must be 48", not just the distance from the top of the fence. When it comes to gates, the release latch is raised to 54". How is this possible? Well the fence itself need to be 48" high, not the latch. Ever noticed those magnetic release latches that extend up over the top of the fence?
That's because they need to be taller than the fence. Now this creates a child-resistant latch. Not a child-proof latch. They are all creative and conniving little buggers, so don't underestimate them. Another point: the gate needs to open outward, away from the pool area. This prevents entry if a child does manage to swing the door open. And last but not least, the gate much be self latching. Ever gotten annoyed at a friends pool because the door closes so fast? This difficulty is by design all for safety and compliance with Connecticut regulation.
Now what about aesthetics? All these regulations sound like they combine together to make an ugly fence, but this is not the case. You still have many options for your fence and still be within BOCA and Connecticut pool fencing regulation. Now natural materials like wood are great looking and strong, but they don't comply with regulation over time.
They rack, warp and twist as time goes on, creating safety hazards. Chain link fences, along with aluminum and vinyl are all acceptable alternatives. Chain link might be against your HOA however, so make sure you know your HOA agreement. Both aluminum and vinyl come in tons of colors and styles that comply with CT code, so finding the perfect style will not be an issue.