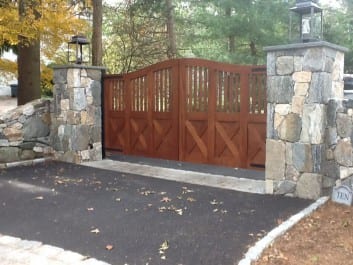 If you're a homeowner or business owner, you might have looked into various options for making your house or building stand out. You might not have considered adding an entry gate, but this addition could create the stunning impression that you are striving for on your property. With all of the various types, styles, and options, creating the ideal gate to reflect the proper image should be no problem at all.
Create a Spectacular First Impression
Because your driveway gate will be the first thing that people notice, choosing the right style to accurately represent your home or business is very important. Gates made out of wood naturally give off a different vibe than one made from steel bars, so choosing the proper material is a great place to start. It's important to note the benefits and drawbacks of each fencing option before making a final decision; here are some general points to keep in mind:
Wood: A well-done wood gate will add a touch of elegance to your property in the New England tradition.
Wrought Iron: These highly stylish gates require very little maintenance and generally last a long time. However, wrought iron gates are usually more expensive when compared to other options and their heavier weight puts more stress on the gate openers.
Steel: With the proper care and maintenance, steel gates are designed to last for long periods of time. As a stronger material than aluminum, steel gates are less likely to bend or break.
Aluminum: Because aluminum is a lighter material than wood, wrought iron or steel, it puts less pressure on the gate openers. In addition, aluminum does not rust like steel does, which minimizes maintenance. Typically aluminum is not as attractive a material as the other options, but it does usually last a long time.
While the details behind the materials vary, each option provides the key aspect of safety. Ranging from manual entry to requiring a code to be typed in on a keypad, the extent to which you allow access to your home or business is up to you. Before using a driveway gate for security, you may want to consider a perimeter fence. A perimeter fence circles around your property effectively closing off areas where people would otherwise be able to get through, allowing the driveway gate to be a universal entry point.
If you're thinking about installing a driveway gate and would like to know more information about the process and how to get started, give us a call at Riverside Fence. We would love to work with you to create the perfect driveway gate that compliments the look and feel of your property and provide the added safety you deserve.