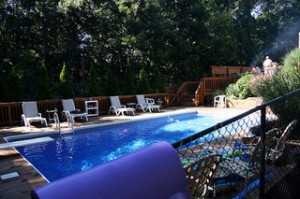 Are you thinking about installing a fence around your swimming pool? If you are, that's a great idea! Pool fences save lives by preventing accidental drowning. Swimming pool fences don't have to be purely functional though, they can also be ornamental and beautiful.
The best swimming pool fence is one that's easy on the eyes, functional and resilient. Remember, these fences are installed outdoors so expect to get one that can last through a beating. This article will help you choose the right material for your new swimming pool fence.
Top 3 Swimming Pool Fence Materials
1. Ornamental Aluminium
This is probably the most popular pool fence material in the market. It's praised for its durability, lightness and beauty. This fence is powder coated instead of using the traditional liquid paint. This means that paint is evenly applied thus offering a smoother finish.
Aluminium is often mistaken for wrought iron fences because they're both metal. So what's the difference between the two? Wrought iron is heavier and a lot more expensive. Go for the aluminium if you're on a budget.
2. PVC
PVC is short for Polyvinyl chloride. It's a very durable plastic. If you need more privacy when taking a dip in your pool, a PVC fence is a good choice. This fence comes in many designs like picket fence and solid flat panels. It's also a low maintenance fence.
Do know that these fences tend to be on the bulky side. Expect the fence to sag a little too the longer it's used outdoors as PVC is plastic.
3. Wood
Wood has its appeal. It's beautiful, classic, customizable and cheap. You have more design choices when it comes to wood fences that you would with a PVC fence. Aside from the design, you also have the option to stain it or paint it any color you want.
The downside here is that wood takes a little more maintenance work—think peeling paint and rotten wood.
Key Takeaways:
Always keep the fence locked especially if you have children at home. You can also have an automatic child proof lock installed just to be on the safe side.
Do you really need a closed or covered pool fence for privacy? If you have children swimming, it's always better to have a good view of their activities even when they are accompanied.
Regardless of the material of choice, maintenance is to be expected. Check your fences at least once a year to prevent further damage and costly replacements.
Need Help?
Interested in adding a fence around your swimming pool, but aren't sure what material you should use, contact us today!