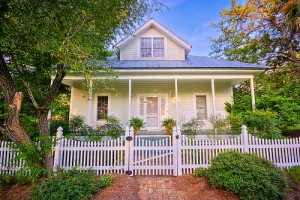 The right type of residential fence is dependent on several factors. A residential fence is used for many purposes, and their forms reflect those purposes. A fence that is intended to keep out intruders should not be made the same way as one that is purely decorative. Fence companies in Connecticut can provide fencing to meet the needs of any homeowner, as well as give advice on which type would be best in a certain situation.
Fencing Materials & Styles
There are three main materials to make a residential fence: wood, metal, and plastic. Within each are various styles and acceptable uses, and some of these overlap.
Wood fences include picket fences, lattice fences, and stockade or privacy fences.
Metal fences mostly consist of wrought iron and chain link.
Plastic fences can be made to imitate the look of wooden fences or wrought iron fences.
To decide which type of fencing is right for your home, there are two key questions to answer:
1. Why are you getting a fence?
If you want a fence only to establish a visual property line, your options are wide open. You can choose a fence based on aesthetics or price, or any other factor you choose.
However, if you want a fence for security reasons or to keep pets inside a yard, you will need one that is sturdy and tall enough for that purpose. Chain link fence is a popular choice for this, because it is relatively inexpensive and easy to install. A standard four or five-foot tall and 11 to 9 gage fence will work in most cases. The downside of chain link is that it does not provide privacy; for that, a fence must be solid or nearly so, making stockade fences a better choice.
2. Where are you putting the fence?
For level ground, any fence will work. For ground that has a slope, options are more limited. Prefabricated fences, such as most plastic fencing, can sometimes only be installed on level ground. Other potential fence installation issues include local and neighborhood ordinances, including those about where fencing can be placed in relation to property lines and what fences should look like.
Key Takeaways:
Main fencing materials are metal, wood, and plastic.
The purpose of a fence will determine its style.
Sloped ground requires special considerations.
Know the fencing regulations in your area before installing a new fence.
Need Help?
If you're interested in installing a fence at your home but are having trouble getting started,
contact us today!