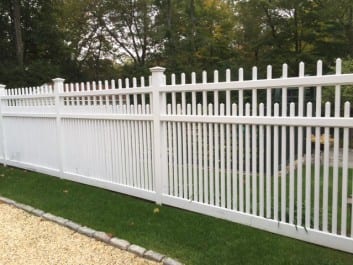 Given the large variety of fence options available these days, you are sure to find one to suit your property perfectly. By installing a quality fence around your property, you can define your space, afford yourself some privacy, contain your children and pets and keep unwanted visitors out.
Installing a fence in CT can also improve the overall look of your home and help create the attractive curb appeal you need, if you are planning on selling it. Before installing a fence, there are some key points to give consideration to:
1. Property Lines
Examine the deeds to your property and determine which fences you own. You generally own the fence to the tight of your property. The fences you own will have a letter "T" marked along the fence line. It is important to clarify which fences you own before you start removing existing fences, trees or shrubs, and find out that they do not belong to you. Disputes over property lines and ownership of fences can lead to costly legal action. You can avoid this, if you do your homework and plan accordingly.
2. Homeowners Association Laws
If you live in a condominium, gated community or other community where you pay Homeowners' Association (HOA) fees, you must comply with your HOA by-laws. These may state that you may not replace or put up a fence. They may also state that any fence must be a certain type, height and color of fencing.
3. Positioning
Particularly, if you are installing a fence in CT that will require ongoing maintenance, like wooden fences, you need access to both sides of the fence. You should position your fence so that it is within your property line, so that you can access the back of the fence without trespassing on neighboring properties.
4. Be Courteous to Neighbors
Be courteous and let your neighbors know your plans. Particularly, if they have small children or animals, you should give them advance notice that you plan to remove any existing fence and erect a new one.
5. Local Ordinances
If you live in a historic neighborhood or conservation area, it is important to contact your local government building control office to check if there are any local ordinances with which you must comply.
Key Takeaways:
Research property lines before installation
Check with HOA Laws
Plan and position your fence carefully
Be courteous to your neighbors during installation
Research and follow local ordinances
Need Help?
If installing a fence is something you are interested in but are having trouble getting started, contact us today and receive your FREE estimate!