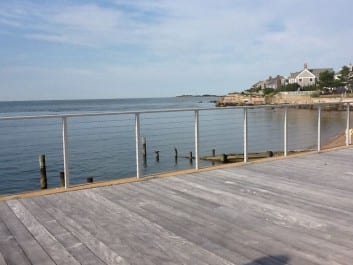 Traditional fencing uses glass, mesh, spindles or planks to fill in the space between posts in a fence. Cable rail fencing uses cables that stretch either horizontally or vertically across the fence. These types of fences are attractive and durable and won't block the view of your backyard, balcony or walkway. Cable railing is sturdy and can help provide support and doubles as a safety rail. Additionally, the lean texture and non-bulky makeup of cable railing makes it a good option for modern architectures. A cable rail fence isn't only used outdoors. Many homeowners enlist the services of a CT fence company to install custom cable rail fencing on staircases, lofts and indoor balconies.
Preferred Fencing
Cable rail fencing is preferred when other types of fencing would create an obstruction of a natural area such as the ocean, river, lakes, mountains and forests. Glass fences are sometimes used for this purpose as well, but glass fences require regular maintenance and can fade over time with prolonged sun exposure. Public parking lots and walkways often use cable rail fencing for its resilience and strength. Additionally, cable rail fencing can add a rustic look to existing homes or a clean, simple look suitable to modern homes.
Construction
The tension of a cable rail fence must meet a specific standard. To accommodate a cable rail fence, a sturdy and rigid frame is required. Frames are typically constructed out of steel, aluminum or wood. Cable sizes can come in 1/8-inch, 3/16-inch and 1/4-inch diameters. Thicker cables are more expensive, but provide a stronger, less pliable cable. Additionally, the top rail must be constructed of a strong wood or metal to ensure that the overall frame can support the tension of the cables. When installing a cable rail fence, make sure to consult with local fence companies in Connecticut to ensure proper building codes are met.
Key Takeaways:
– Cable rail fencing is often used for its minimal obstruction of views.
– Strong frames are requires for cable rail fencing and are typically made of wood, aluminum or metal.
– Cable rail fencing can stretch horizontally or vertically across a frame.
– Fencing can be used in many commercial and personal applications and works well indoors and outdoors.
Need Help?
If installing a cable rail fence is something you are interested in but are having trouble getting started, contact us today for a FREE estimate!