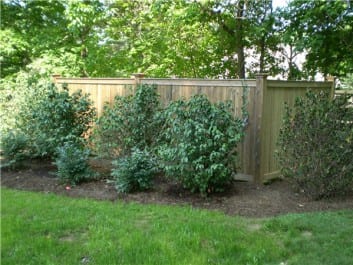 Whether you are considering selling your home or you're just giving it a little facelift, you might be wondering if adding a fence to your property is a good decision. Will it increase the value of your home?
While the answer is typically yes, there are a few items to take into consideration when deciding if you should add a fence around your property.
Before you invest in a picket fence or any other type of fence, don't be afraid to do a little research. You want your fence to compliment your house and match the look and feel of your neighborhood, and also stand out to potential buyers down the road.
Your Neighborhood's Curb Appeal
What does your property say about you?
The first thing you should do while determining if your home needs a fence is to drive around your neighborhood. You don't want to have a cookie cutter house that looks the same as every other home in your neighborhood, but at the same time you don't want it to stand out too much from the other houses.
If you are considering selling your home, you will want to make your home attractive and memorable to potential buyers.
Depending on your neighborhood, a privacy or picket fence might be a better alternative to a chain link fence. Don't let your choice in fencing make your home stick out like a sore thumb, the overall goal of adding a fence is to improve your curb appeal.
Not sure which type of fence will increase your home's value? Discuss your options with a fence designer at Riverside Fence.
The Look of Your Home
Not only do you want to take into consideration the look of your neighborhood, but you also want to find a fence that matches the look of your home.
Depending on the age of your home, you may want to mimic the style through the key elements (fence, driveway, door, color and decorative features) to match the style of that era. The type of fence you choose can have a huge effect on the value of your home.
Just as a swimming pool and central air can add to the value of your home, a fence can contribute a similar benefit.
Don't just add a fence to mark the perimeter of your property – use it to help create a sense of place, accentuate landscape features, provide security, and contribute dramatically to your home's curb appeal.
Added Privacy and Security
One of the prime reasons for building a fence is to provide security for children, pets and homeowners.
If you are selling your home, you will probably consider who the potential buyers might be. If they are new owners who have young children or pets, an attractive, well-maintained fence will be seen as an asset and certainly increase the value of your property. Oftentimes, a fence that enhances the look of your property and blends into the community is a good investment. If potential buyers want privacy for entertaining or relaxing, a fence will be viewed as a plus. If they want to install a pool, the right fence will fulfill safety and legal requirements and save them money.
Already Have a Fence – Should You Repair or Rebuild?
If you have an older fence on your property, you might be wondering if it should be repaired or rebuilt. A fence contractor can advise you on which direction you should take.
Your aim is to have a fence that gives your home a feeling of completion—like the icing on the cake. A fence that has not been properly maintained is absolutely going to reduce your home's value and should be repaired or replaced immediately.
A fence that fits your neighborhood, matches the style of your home, and can be utilized to add an additional element of privacy and security, is a fence that will increase the value of your home.