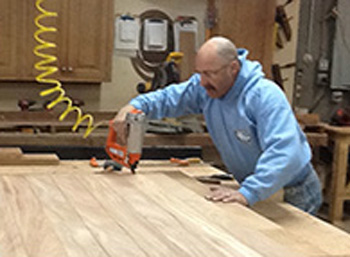 Several factors influence the choice of fence material for your yard, garden, and home. Depending on the stylistic effects, location and purpose of your fence, each material provides its own pros and cons. Fences provide a way to create privacy, add flare to the outside of a home, and provide a functional and effective method of defining boundaries between properties. Traditionally, fences were made out of wood, but over time additional materials have been used that provide their own unique characteristics, strengths, and weaknesses. For example, a vinyl chain link fence is now a popular option. Choose from reputable fencing companies in CT to help with all of your fencing needs.
Wood Fences
Wood is arguably the most common type of fence material used in construction. Wood stands up well to weather and, provided the right maintenance procedures are taken, it actually gets better with age. Wood also provides a larger variety of stains and wood types to perfectly match any exterior design.
Aluminum Fences
Aluminum fences stand up better to rust and corrosion than iron fences. The materials are light-weight and, because of the powder-coat finish, they are well-suited to painting. Since aluminum can be easily manipulated and twisted, more complex designs are available with these types of fences. The unique coating that usually gets applied means that the homeowner only needs to clean the fence occasionally and provides a low-maintenance option.
Iron Fences
Iron provides a sturdy and robust alternative to wood and aluminum fence materials. When the fence will be subject to intense wear and heavy usage, then wrought iron usually provides the best option. Wrought iron fences are used to exude a historic or rustic look. Because of the strength of the iron, complex designs are more difficult to create.
Bamboo Fences
Bamboo is resistant to extreme weather conditions and is typically twice as strong as most woods. Bamboo also tends to be resistant to termites because of the high silica content that termites can't process. It costs more than cedar, pine, and other types of wood fences, but it tends to last longer, as well.
Key Takeaways:
Wood is ideal for a traditional look and ages well.
Aluminum can be bent and twisted into complex designs and shapes.
Iron provides a heavy-duty fence when a tough fence is needed. It also provides a rustic look.
Bamboo fences are extremely tough, weather resistant, and can withstand a termite invasion.
Need Help?
If installing a fence is something you are interested in but are having trouble getting started, contact us today for a FREE estimate!
*Photo courtesy of www.buzzle.com