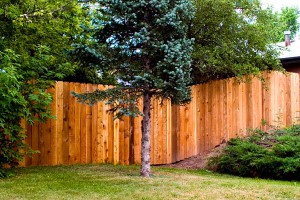 Fencing is a necessity for most residential owners. However, installing a fence can be quite the process, especially when your landscape presents some challenges. One of those challenges will be the contour of the land. If you are situated in a hilly area and need to build a fence around your yard, there are certain methods that should be used to make the installation successful. The particular method you choose may depend on the degree of the slope.
3 Ways to Install a Fence on a Slope
When installing a fence on a hilly area, there are three methods you might utilize to successfully install a fence around your property.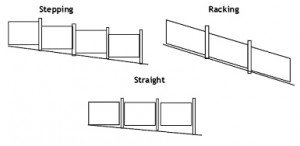 Racking. By running the fence following the slope of the ground you, this method will produces an unleveled fence top; however, there will be no visible gaps between the ground and the bottom of the fence.
Straight. By straightening the fence at the top this will produce a more leveled fence at the top, however, gaps will be created at the bottom of the fence and the ground. This option may not be considered viable if the area consists of a prominent hill.
Stepping. With step installation, fences are dropped down in areas where there are prominent grade changes or having the fences stepped up in areas where the grade rises.
Choosing the Right Material
Choosing the right type of fence can help determine which method will work best for you. For example, aluminum and PVC fences are rackable, which means that the fence can adapt to the changes of the grade but with limited extent. Wood fence may also work with the methods mentioned above but may need to have the pieces of wood cut piece by piece allowing for exact measurements and customization. One fence material that will not work for this type of project is ready-made panels, due to not being able to customize each individual panel.
It is not easy to build a fence on a sloped area but when you decide to do so, it's best to seek the advice and help of a professional fence contractor in Connecticut.
Key Takeaways:
Don't use ready made panels to install a fence on a hill.

You can install a fence on a slope by utilizing racking, stepping and straight methods.
Choose the right fence material for the particular method your using to install your on a slope.
Need Help?
Are you interested in installing a fence on a slope around your home, contact us today for more information.