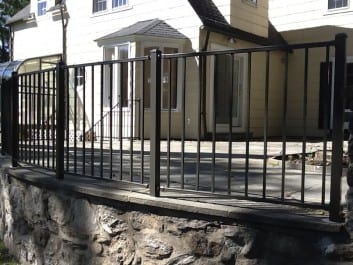 An aluminum fence is a fresh alternative to wood, vinyl and wrought iron fences. When most people think of aluminum fences, they envision an unsightly chain link fence. New aluminum fencing sizes, styles and colors add maintenance-free beauty to the landscape. Increase security and save money by installing an attractive aluminum fence. Fence companies in CT offer several styles of aluminum fences that can quickly and efficiently be installed.
A Rust-Free Alternative to Wrought Iron
Aluminum does not rust like wrought iron. Aluminum fences are lightweight and easy to install. Unlike wrought iron, aluminum saves time and money because it does not require painting, scraping and sanding. New aluminum manufacturing methods create fences that closely resemble attractive wrought iron fences, but at a fraction of the cost.
Powder Coated Colors
Aluminum comes in a plethora of powder-coated colors. Powder coating is a method of painting aluminum by fusing the paint to the metal surface. This creates an aesthetically pleasing fence available in many color schemes such as matte or shiny black, matte bronze, white, sandstone, beige, green, matte gray and even maroon. This powder coat never needs repainting, lasts years and strengthens the fence's resistance to the Sun's UV rays, weather and the elements.
Aluminum is an Economical Alternative
Wood and wrought iron can be very expensive to install and maintain. Aluminum fencing costs less and comes in many sizes and colors to match the landscape. Ornamental aluminum fencing is durable and provides an open feeling to surroundings. The gates and hardware on fences can be costly, and many other materials have limited options. Aluminum gate frames are more cost-effective than other fence materials and conform to any gate style. Aluminum gates have multiple size and decorative options with locking mechanisms designed for the walkway or driveway.
Choose from Many Styles
Aluminum fence panels come in many styles and configurations to fit any landscape. Land is not always flat, so fence panels need to fit into mild, moderate and severe slopes. Handrails for walkways and steps are available to match the fence. Posts are available in multiple heights and sizes like 4 x 4, 3 x 3 and 2 x 2 inches. Three-way posts make it possible to connect a 90-degree corner separating different areas of the landscape. Radiance Rails have added strength due to the 0.090 consistent wall thickness. Panels have a multitude of attractive rail patterns such as estate scrolls. Choose from a spear top design ornamented with optional circles or butterfly scrolls on alternating pickets.
Key Takeaways
Aluminum fence alternatives are lightweight, easy to install and virtually maintenance-free.
Powder coat paint comes in many colors and protects the gate and fencing.
Aluminum fencing is an economical option to other materials.
Fence panels come in many styles, sizes and configurations.
Radiance Rails are stronger than conventional rail systems.