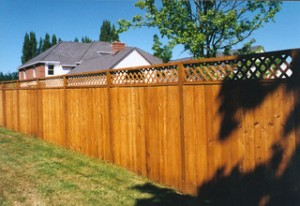 Most people don't like to be bothered by their neighbors (especially the talkative ones) or people walking past their house when they are trying to relax or clean up the yard. A great solution to this problem is installing a privacy fence. This type of project is something you can do yourself, or hire a professional.
Should you choose to take on the task yourself, here are a few things you should keep in mind.
Make sure your fence is tall enough to give you privacy! You can figure out the measurements by having someone walk around your yard with a large piece of cardboard. Another person should sit and stand to see which height gives you the most privacy. Keep in mind that adjustments need to be made to the height in sloped areas. You may also face restrictions where there are trees and bushes.
It is important to have as many posts as possible so that your fence will be strong and sturdy, even during the harshest windstorms. It's best to space them out less than 8 ft. apart to avoid sagging. Mark each post with a stake every 8 ft., and based on the thickness of the post you will be able to figure out how far apart each post should be.
It is crucial to know what your local building codes and regulations are, as well obtaining the correct permits. You can't just start building a fence on your property; you must have permission from your town. Doing this will save you a lot of time and money, simply because if the town says you built it too high or over your property line, you'll have to knock it down and start over.
You want your fence to give you privacy as well as functionality. So when planning out your fence design, include at least two gates and make them large so you can get your lawn equipment in and out with ease. Your gate should be at least 6 ft. in order to accommodate your largest tools and equipment. If the gate is only for pedestrian access, you can get away with a 3 ft. gate.
Another way to gain easy access to your yard is making one of your panels removable. This is helpful when you need to get a vehicle, especially a large truck in your backyard, instead of chucking materials over the fence and possibly damaging the fence or hurting yourself. You can achieve this by toe screwing the rails from post-to-post.
It is possible to install a privacy fence on your own, but you will need help from a few friends. Just follow the above guidelines and your project will run smoothly. But if you find it to be too much to handle on your own, give us a call at Riverside Fence! Our staff is happy to assist you with all your fencing needs!