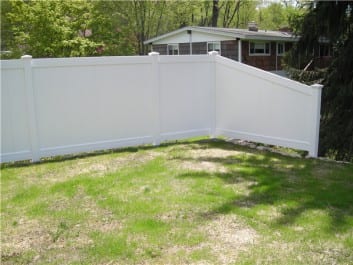 Owning a pet comes with a lot of responsibilities. While they provide much joy and companionship, they also need to be protected and supervised. Without the proper precautions, it can be difficult to restrict and keep track of your pets while outdoors. Fortunately, choosing the right fence for your yard can solve all of your problems in an easy and efficient manner.
The Right fence for the Right Pet
Depending on the size of your pet, the type of fence that you need will vary. It is important to get the correct type of fence to ensure that your pet does not escape the enclosed area. It is easy to determine the right fence for your yard by considering which physical category your pet fits into:
Smaller Pets: Smaller pets can fit in between posts if they are not close enough together, and they also have the ability to go underneath fences that are not secure in the ground. Making sure you consider these two possibilities when choosing a fence is vital to successfully containing your small pet.
Medium Size Pets: Typically the easiest size pet to keep contained, medium size pets sometimes have the ability to jump over or dig under shorter fences, so taking into consideration the abilities of your pet is important.
Larger Pets: Restricting larger pets usually requires the use of a higher fence, as they can jump over shorter ones. In addition, they have the ability to either knock down a fence that is not sturdy, or dig under one that is not deep enough into the ground. A tall sturdy fence is ideal for containing pets of this size.
Not only do these fencing suggestions help to keep your pets from getting out, they also help other animals from getting in.
Traditional Fences vs. Electric Fences
Many people resort to electric/invisible fencing for their pets, but those types of fences don't do anything to stop other animals from entering your property. Outdoor animals can pose a serious threat for your pets, so ensuring they are kept away is extremely important for their safety. In addition, electric fences do not ensure that your pet will still not leave your property, whereas the physical barrier of traditional fences can confirm their containment.
If you have any questions about the proper fence for your pet, or would like to meet with one of our fence professionals, feel free to give us a call at Riverside Fence. We are happy to work together to ensure your pet's safety.