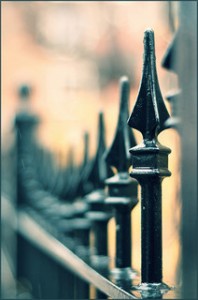 There are no blanket laws covering CT fence regulations for the entire state. The regulations for residential fence construction fall under municipal planning commissions and city ordinances. State building code places a height cap of six-feet for CT residential fences and four-feet for retaining walls. The statewide planning department suggests not placing a fence directly on a property line because adjacent owners technically both own the property line. When looking for fence companies it is important to research your local CT fence installation ordinances.
Types of Permit Requirements
Your city's official website has a building and codes section with specifications for fence installation. The website and city hall has online permit applications or printable forms. Your zoning permit details your property boundary restrictions and usually requires a filing fee. Additionally, a building permit may be required, especially when attached to an accessory structure, such as a garage.
A plot plan with a scale rendering of the fence drawn to scale is required in many larger cities like Bloomfield. A methods and materials listing the type and style fencing is required for many municipalities. Many cities require an additional land survey report outlining topographical evidence and the location of underground utilities.
Common Types of Restrictions
All residential ordinances restrict a CT fencing company from erecting a fence over six feet in height, without a special permit. Overall, all municipalities restrict the installation of chain link fences over four feet in the front yard. Many cities have restrictions on chain link fences, so be sure to research your local ordinance.
Front yard fences over four-feet tall have different rules in many cities such as the one-foot rule. For fences over four-feet, the fence must set back at least five feet from the property line for each additional foot.
Fences cannot obscure a motorist or pedestrian view of an intersection, a property line from the street or a driveway edge. Electrified, razor wire and barbed wire fences are not allowed in residential urban or suburban settings, but are permitted in many rural areas. Pool fences fit into a completely different category and are not included in this post.
New Fence Requirements for Norwalk, CT
A building permit is not necessary for fences below six-feet in height from the lowest ground level point. A permit is required to replace or install a fence under six-feet, but the city does accept permits for fences under six-feet. The fence cannot obstruct light and ventilation of a window or door on the owners or neighbors property. This does not include accessory structures like sheds or garages.
A new ordinance says that when there is a 'good' side of a fence like wooden or picket fencing, the good side can face either the owner's property or the neighbor's property.
Key Takeaways
There are no blanket laws covering CT fence installation regulations for the entire state. The regulations for residential fence construction fall under municipal planning commissions and city ordinances
Check your local ordinances before constructing a fence on your property to make sure your fence plan meets all requirements
The general rule is you cannot construct a fence over 6 feet tall without a permit
Fences cannot obscure a motorist or pedestrian view of an intersection, a property line from the street or a driveway edge
References