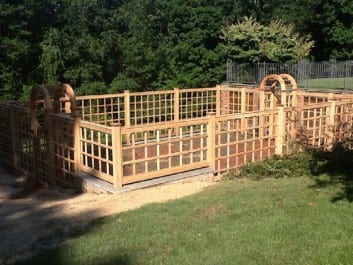 A garden can be a beautiful and useful addition to any yard. Depending on the types of plants being grown in the garden and its specific purpose, the way in which the garden is enclosed will vary. The types of fences that can surround a garden range from practical to decorative, and the process of choosing the ideal type will change with each project.
Before choosing the fencing for your garden, it is important to answer a few important questions. These details will help to narrow down your search and find the ideal product. Some important aspects to consider include:
Available Space: Be sure to analyze the location of your garden where the fence will be installed. Find out the measurements and placement to assure that you don't get a fence that will be too small or too bulky for the available space.
Your Garden: Don't forget about the specific needs of the plants in your garden. If they require more or less sunlight, or if they need protection from the wind or animals in the area will determine the size, material and design of the fence. Any additional requirements should be considered for the benefit of the items enclosed.
Function: Do you want vines and plants to grow on the fence; or a fence that adds decoration to your yard? Whatever the specific functions of the fence, you should be sure to know them before starting your project in order to narrow down your options to the ones that will fit all of your needs.
When considering these three important aspects, it is equally as important to find a fence that fits the personality of your yard. Finding a fence that fits your requirements but interferes with the surrounding feel of your yard will bring down the appeal of your landscape. Working with a fence professional will help to combine all of the necessary attributes for a stunning and beautiful yard.
If you have any questions or would like to know more about installing a garden fence, give us a call at Riverside Fence. We would love to help you move forward with your plans by installing a garden fence that goes above and beyond your expectations.