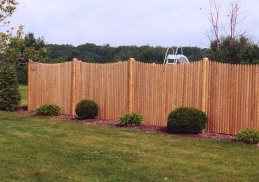 Fencing is a fantastic way to add to the aesthetic appeal of your property and protect it at the same time. If you are considering installing or replacing your fence in Connecticut, consider what you want the fencing for. Is it ornamental, or to keep something in, or out of, your yard? Also, what type of fence do you want? For example, deer fence installation was previously limited to ugly electric wires, but sturdy plastic mesh fences are now growing in popularity as they are cheaper, less obtrusive, and faster to install. The type of fencing you choose will greatly influence the cost and installation time.
Here is what to expect:
A representative from a fence company in Connecticut will take complete measurements to give a correct quote, and order necessary materials.
Mesh fencing can be put up in one or two days, depending on the size of your property. It is attached to existing trees around your boundary, with stakes added at regular intervals.
If you don't have enough trees or an existing fence to mesh, steel poles will be sunk securely, taking another day's work plus two to three days for the concrete to cure. This is better done in spring or summer when the ground is soft, and when the weather is warm enough for the concrete to harden.
Electric fencing can take a day or two longer than mesh, but the process is similar. Several galvanized ground rods of around seven feet long need should be attached to complete the electrical circuit to the charger through the ground. Without proper grounding, the fence won't issue shocks strong enough to deter pests.
Key Takeaways:
As a rule of thumb, allow 2-5 days for your fence timeline. Your supplier will confirm this at the time of booking.
Do it right the first time. Make your decisions based on both what you need now and what you are likely to need in a year or two so that you don't end up with inadequate fencing you need to replace.
Choose one of the reputable fencing companies in CT. Ask to see customer testimonies and examples of their work.
Need Help?
If installing a fence is something you are interested in but are having trouble getting started, contact us today for your FREE estimate!
*Photo courtesy of www.freedigitalphotos.net